PURPOSE OF RUHANI SATSANG: "My Master, Hazur Baba Sawan Singh Ji Maharaj, a perfect Saint, had a great desire to form a common forum or platform, Ruhani Satsang [the words mean literally "spiritual gathering"-no denominational or sectarian connotations of any kind], at which all persons, even though professing different faiths and religious beliefs, could be imparted the principles of Spirituality and encouraged to practice spiritual disciplines, in order to gain salvation and peace here and in the Beyond." - Kirpal Singh

The booklet: RUHANI SATSANG - Science of Spirituality gives further details on the nature and function of this organization.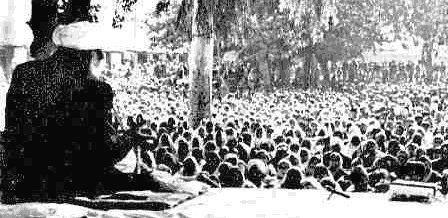 250 "H" St. #50


Blaine, WA 98230-4018 Telephone: 1-888-530-1555
Fax: 1-604-530-9595

email: Ruhani Satsang USA

Ruhani Satsang came into existence with Sant Kirpal Singh's first visit to the U.S. in 1955. The U.S. organization was incorporated in 1964 as Ruhani Satsang, Inc. at the direction of Kirpal Singh. The name was changed to Divine Science of the Soul in 1966 and again in 1970 to its present name, Ruhani Satsang--Divine Science of the Soul. In 2001, we merged with an existing website to become our official website under the name of Ruhani Satsang USA. Through this website we will further serve Sant Kirpal Singh's mission by publishing His teachings and making them available to a world-wide audience of initiates and seekers after Truth. Ruhani Satsang's other activities. Contributing to the operations of Ruhani Satsang. Comments regarding successorship.
---